Quality is one of the important ingredients to keep your viewer freeze with your content.  For maintaining quality, you need good equipments too within the budget.
For better picture quality, if you have a DSLR camera it will be really great.
But, there are many Youtuber's who don't have any DSLR and shoot with their phone. But still they are growing, but how?
Because apart from the picture your content should be valuable too. The viewers needs information from you and you  need to fulfil their need instead of misleading or meaningless content.
Disclosure: "This post may contain affiliate links at no additional cost to you, I may earn a small commission if you go through the links and purchase."
Today, I would like to share my gadgets with you.
I have a Youtube channel and the equipment that I am using is quite budget-friendly.
1. Camera
The only expensive thing that I have is my iPhone XR white version. The iPhone gives me best video quality. it can shoot in upto 4k at 30 FPS. iPhones are quite cheap now a days. If you are in India, you can go with one of them too.
If you don't have iPhone, no worries. Even androids are very well-performing these days. I have started my carrier with android and I believe it can help you too.
2. Audio
Audio is the another press pusher for your content. If your content contains audio, then it's really necessary to maintain good quality audio.
A viewer needs to receive what you want  to deliver through your video. Otherwise, the viewer might get mislead from your content or like most of the cases, you might lose their trust.
If you are a budget youtuber like me and don't want to spend on Mic, then the video down below can help you to record good audio quality without mic.
How to record youtube video without mic? 
But, if you have medium budget for around 1k, then you can go with Boya BY-M1 , which is a quite awesome mic in budget.
The build quality is really awesome. And the audio quality you get is really awesome. I started using this and I personally really recommend it to you.
3. Light
Light is one of the another factor that you should be taken care of , specially in the case of if you are showing yourself or any kind of product. Lights lead viewers and engage them.
For beginer youtubers, I personally recommend Godox Softbox light. This is quite cheap and is a quality product.


But, if you don't have this much budget, you can DIY your soft light at home at a really low cost. (Check on Youtube, you will get tons of it).
4. Steady Video
Shaky videos are really disturbing. Nowadays, most picture capturing devices ex. phones, DSLR, action cameras have image stabilization systems. But when we are shooting ourselves for youtube videos, then the stability really comes in handy.
For better quality, I would really recommend you to shoot with your back camera only. Because the lenses used in the back camera are far better than compared to your front camera.
For more stability, I would recommend you to use a tripod. Tripods are really handy and easy to carry.
In your local market, you can get these kinds of cheap tripods for around 150-200 bucks. This is really good and I have used it in my beginning.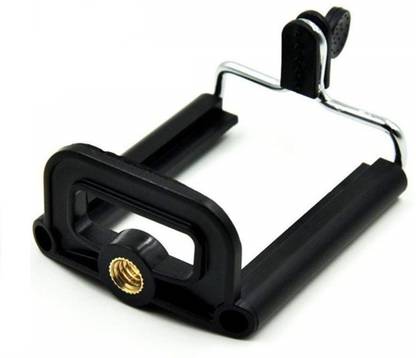 But, the camera holders in these cheap tripods don't hold your devices perfectly.
Hence why I had used SLOVIC® Tripod Mount Adapter. You can attach this mount with your cheap tripod and get good results. 

These are the products that I personally used. If you have any queries, let me know in the comment below. I will get back to you as soon as possible. Peace out.